SMITH-TAYLOR and Allied Families Association (STAFA)
This is a picture of one of many homesites of our ancestors that lived in the mountains, valleys and flatlands of the Virginia's, the Carolina's, Tennessee and Kentucky.
This picture is the William and Nancy (Phillips) Workman Family and their home place. It is believed that the old home place was in the area of Bratton, Bracken, KY. It is not known to STAFA if the structure is still standing are not.
The following words were written by the grandmother of Regina "Gina" Ann Insko - Avis Loraine Workman-----This is my mother's home, when she was a girl. In this picture is Uncle Bob, seated is my granddad (that I never saw), Uncle Willie, and the little girl is Etha, daughter of Uncle Joe and Aunt Hattie (standing on the right) and the elderly lady is grandma Nancy. She died in Feb 1906.
Follows are the comments of Gina-----To the best of my knowledge, the folks mentioned would be William 'Stilts' Workman (granddad), Nancy Phillips Ballenger (grandma), John Robert Workman (Uncle Bob), William Workman (Uncle Willie), Joseph Workman (Uncle Joe), Hattie Askins (Aunt Hattie) and Ethel (Etha). All three boys being children of William 'Stilts' and Nancy.
WELCOME TO THE STAFA ABODE
The several pages of STAFA were last changed/updated on 31 Jan 2011.
If you have any old photographs that you would like included on the STAFA Website, please send them to STAFA. It is requested that they be in the JPEG (.jpg) format.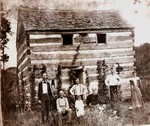 YOUR COMMENTS, CORRECTIONS AND ADDITIONS ARE INVITED:
As you visit the several pages of the STAFA Website, your additions, comments and corrections are invited.
The goals of STAFA are twofold:
1st - provide accurate data.
2nd - completness of data.
Thanks to the many family members that have assisted todate and to those who will in the future.

STAFA GENEALOGY DATA FILES:
Are you tracking your family? We are tracking ours, click on the tracks to go to the STAFA Genealogy on line Data Files.